Search IST Courses
Find PV Solar course near by you
Search by: How To Start Solar Energy Business In India
Stand-alone PV systems
Stand-alone systems are not connected with utility power lines and these are self sufficient systems. These systems could either be used to charge the batteries that serve as an energy storage device or could work directly using the solar energy available in the daytimes.
Rooftop Solar Project Course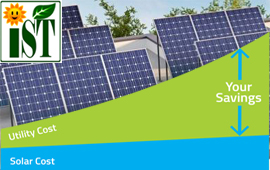 Certificate in Rooftop Solar Project
Rooftop Solar Power Plant: During covid-19 India' Rooftop solar sector adds 800+ MW. In rooftop solar sector a small entrepreneur needs a strong knowledge about off-Grid, On grid, hybrid system designing and financial benefit, bankable report preparation. This course will cover all aspect of designing and procurement, installation, financial modelling and customer nogotiation skills.

Admission going on for 3rd Batch of Feb-2022
A stand alone photovoltaic (PV) system is an electrical system consisting of and array of one or more PV modules, conductors, electrical components, and one or more loads. But a small-scale PV system does not have to be attached to a roof top or building structures for domestic applications, they can be used for camper vans, RV's, boats, tents, camping and any other remote location. Many companies now offer portable solar kits that allow you to provide your own reliable and free solar electricity anywhere you go even in hard to reach locations.

DC (direct current) electricity is generated when solar radiation strikes the PV module. Power can be used in any DC load directly during this generation. But the generation exists during daytime. So, some storage device is needed to run the system at night or in low sunshine hour. Again this power cannot be used to run any AC (alternate current) load. Inverter has to be used to convert DC into AC.
PV Technology & Business Management - Business Course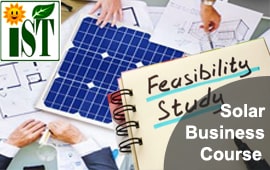 PV Technology & Business Management
To set up a PV solar EPC business an individual from any background need a detailed knowledge from residential, commercial and industrial PV projects detailed engineering to techno-commercial report preparation. This course covers technical details needed to assess potential residential, commercial PV projects and to prepare proposals. Discussed in detail: safety, site analysis, design, performance, costing, subsidy, financial-benefit analysis, financing bankable report preparation.

Admission going on for 3rd Batch of Feb-2022
These types of systems may be powered by a PV array only, or may use wind, an engine-generator or utility power as an auxiliary power source in what is called a PV-hybrid system. The simplest type of stand-alone PV system is a direct-coupled system, where the DC output of a PV module or array is directly connected to a DC load (Figure 3). Since there is no electrical energy storage (batteries) in direct-coupled systems, the load only operates during sunlight hours, making these designs suitable for common applications such as ventilation fans, water pumps, and small circulation pumps for solar thermal water heating systems. Matching the impedance of the electrical load to the maximum power output of the PV array is a critical part of designing well-performing direct-coupled system. For certain loads such as positive-displacement water pumps, a type of electronic DC-DC converter, called a maximum power point tracker (MPPT), is used between the array and load to help better utilize the available array maximum power output.
MW Solar Project - Career Course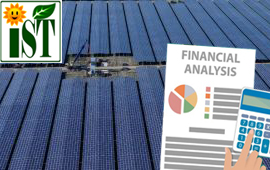 Advanced Certificate in MW Solar Project
Large Scale PV solar power plants need Technical knowledge as well as a strong aspect of financial analysis and modelling. In India there are many power plants becomes non profitable because of lack of sound financial modelling knowledge. This course will cover from MW level solar power plant designing and financial aspects of the solar power plant like DPR,DSCR,ROI,CUF estimation and Capex ,Opex modelling e.t.c.
Admission going on for 3rd Batch of Feb-2022
IST Alumni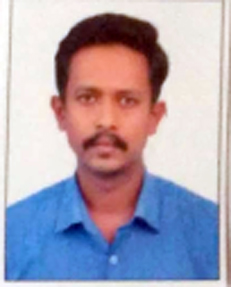 Course Covers from Basics to Technically in-depth Knowledge of Solar with Financial Calculation. Simplification of complicated Technical terms. Gives Basics knowledge of Financial calculation in the simplified matter as most of us are from non-financial background. The In-depth knowledge of Instructor in Designing of Solar PV generation & Techno-Commercial aspect of Solar PV Projects. The Positive Aspects to encourage to do business in various Opportunity in solar PV generation.
- Niket Suresh Sali,
Dy. E.E. at Maharashtra State Electricity Transmission Co Ltd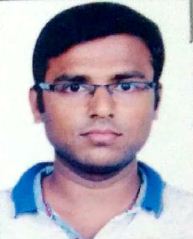 It will help me in design solar system which will helpful for my customer. IST give me proper knowledge about solar market. HELPFUL FOR NEW ENTERPRINER
- CHETAN BHAGWAN DURGE,
GREEN ENGRGY PVT.LIMTED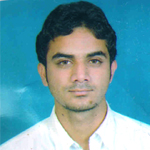 Very good training, Deeply knowledge about all the solar Equipment and also practically knowledge . Good knowledge . and our sir helps lots of during the course . and give extra knowledge about solar project . In lab we got up briefly knowledge about the all equipment . how to connect series and parallel combination . and how to install Solar project on the site .
- Abhishek Sharma,
Maintenance Engineer at Jupiter Solar Power Limited