Advance Certificate in PV System Operation & Maintenance
Summary Description: Work within a team to perform required preventative maintenance activities on solar PV systems. Responds to corrective maintenance cases to troubleshoot, test, and repair.
Job Role
Solar Photovoltaic Plant Operation and Maintenance engineer inspects and perform schedule maintenance jobs for plant, i.e include mechanical and electrical components; performs periodic cleaning of PV modules; and maintains performance data records.
Responsibility of O&M Technician : The PV plants operates with the following basic modular building blocks : Solar Inverter, Solar Batteries, Solar Charge Controller and Solar Panels. Operating the plant requires an understanding of the current and voltages across the system.

BoS or Balance of System components play a huge role in the operation of the plant and these include, system wiring (capacity and size), Earthing and Lightening Protection Equipment and AJB/ DC DB which are basically Junction Boxes.
Certificate will be Awarded by
Institute of Solar Technology, A Unit of Global Advanced Training & Educational Trust, Regd. under NCT New Delhi, Govt. of India
Eligibility
ITI Pass
10th or 10+2 Pass
Minimum Educational Qualifications: 10th Pass
Minimum age 18 years,
Medium:
English, Hindi & Local Language
(Book & Online Examination in English)
Duration: 50 Hours within 1 Month
Training Methodology:
The course will be delivered in class room board work, lecture using PowerPoint, sharing of case examples, design exercises, a complete design task and PV System installation facility at institute power plant.
Training Materials:
FREE printed book as per Syllabus developed by National and International PV Technology Trainer & Expert
FREE E-Library for future study on up-to-date technology, project guide, National & International FREE Article
sample bill of materials, sample financial models etc.
Training & Learning Materials: Wall Chart, Equipment, Measuring Meters, accessories and tools for practical & demonstration only
Core Syllabus:
Unit
Code
Module Detail
Theory
Practical
Total
Unit: 1
GAEM
General Aspects of Energy Management

1. Global and Indian Energy Scenario and Energy Policy
2. State Energy Policy
3. Classification of Energy Resources
4. Renewable Energy Systems
5. Environmental Impact of Energy Systems

3
0
3
Unit: 1
BEE
Basic Electrical Engineering

1. Electron theory - Structure of atom
2. Methods of Electricity Produce
3. Materials used for Electrical Work - Conductor, Insulators
4. Electric Circuits - Voltage, Current, Resistance
5. Band Theory, Conductor, Electro Motive Force (EMF)
6. Ohm's Law, Measurement Units, Power, Horsepower, Energy
7. Electric Circuits - Closed. Open, Short, Series, Parallel Circuit
8. Circuit protection, Circuit Breaker, Fuses,
9. Cable and Wire, Color coding of wires, Solar Cable,
10. Golden Safety Rules, Safety & Protective Equipment, Safety sign
11. Electrical Tool, Electrical Symbols
12. Softe copy of Home Task submitted by every student

3
2
5
Unit: 1
PPS
Physic of Photovoltaic System

1. What is Solar Cell/Panel? Detail of Solar Cell - PV modules layers
2. Photovoltaic Effect
3. Doping Semiconductors, P-type and N-type formation
4. How a Photovoltaic Cell Works
5. Type of PV cell, Monocrystalline, Polycrystalline, Thin Film, Multi-junction Cells, Efficiencies,
6. Generation Solar Cell - First Generation, Second Generation, Third Generation, Future Generation
7. Perovskite Solar Cell, Dye-Sensitize Solar Cell, Quantum Dot (QD) Solar Cell, Organic/Plastic Solar Cell, Printable Solar Cell, Multiple Exciton Generation , Tandem Solar Cell
8. Technical Specification of Solar PV module
9. Fill Factor, Efficiency, Temperature Coefficients
10. Application of Solar Energy
11. Softe copy of Home Task submitted by every student

4
4
8
Unit: 1
SRPS
Solar Resources for Photovoltaic System

1. Solar Insolation, Solar Spectrum
2. Average Daily Solar Radiation, PSH, PSI
3. Solar Window, Location - Latitude, Insolation and Latitude
4. Solar Declination angle
5. solar noon, Determine solar noon
6. Factors to be considered in Solar System Design
7. Air Mass, GHI, DIF, DHI, DNI, Solar Maps
8. Module Tilt Angle Scale
9. Measurement of Sunlight Power incident on SPV Module's surface
10. Significance of the Tilt Angle Northern Hemisphere, Southern Hemisphere, Equinox
11. Summary of Solar Angles, Optimum tilt angle, Best Angle for Solar Panels
12. Module Mounting Structure, Intelligent solar tracking system
13. Softe copy of Home Task submitted by every student

3
3
6
Unit: 2
BoS
Solar PV Balance-of-System

1. Basic Components of a Solar PV System
2. Switch, Disconnector, Principle factors to be considered when selecting the DC switch-disconnector
3. Cable size - DC Voltage & Current in PV Systems, Rated current & voltage
4. D.C. Plug and Socket Connectors - DC Isolator, DC Combiner Box, Junction Boxes, Different Parts of JB, AC isolator, AC Distribution Box
5. String Fuses, Selection of Fuse, Blocking Diodes
6. Earthing System, Earthing of solar plant, Calculation of earth resistance, Grounding System, Surge Protection, Lightning Protection
7. Inverter - Micro, String, Central, Stand Alone, Grid Tie, Pure Sine Wave
8. Measurement/metering of Electrical Power, Charge Controller - PWM, MPPT
9. Mounting Structures - Roof mounted, Ground mounted, Mounting Material, Technical Specifications of mounting structure, Design Specifications, Wind Load Calculation of Mounting Structure, Foundation Selection
10. Networking Cable, Synchronization for Two Power Sources
11. PV Batteries, Battery capacity, Battery connection, Battery Charging Current and Battery Charging Time, Three Stage Battery Charging, Battery Selection and Sizing, What parameters MUST BE monitored? Battery Maintenance Tips, Battery Efficiency
12. Softe copy of Home Task submitted by every student

8
2
10
Unit: 2
SAP
Site Assessments and Project Planing

1. PV System Site Assessment
2. Solar PV Site Assessment Procedure - Preliminary Solar Site Assessment, Site Access Notes
3. Shading Analysis for Photovoltaic Systems - Objective and Subjective Shade, Static and Dynamic Shade, Whole and Partial Shade
4. Shade and Power: The Multiplier Effect, Damage to Solar Panels
5. Determine true south, Site Analysis, Sun paths, SUN PATHS DIAGRAM, Altitude and azimuth, Site Evaluation
6. Softe copy of Site Assessment Report submitted by every student

2
2
4
Unit: 3
SPSW
Safety for PV System Workers

1. Occupational health
2. Constitutional aspects of Employees' right to health, Occupational health Laws, Employees' State Insurance (ESI)
3. PV Installation Safety, GENERAL SAFETY, Installation Safety, Personal Protective Equipments
4. Safety Level, System Hazards and Recommendations, National Electric Code
5. FirstAid Techniques During PV System Installation
Safety Color Coding Lebels and Tape, Marking Physical Hazards, color coding for DC circuits, IEC coding, Fire Extinguishers, Employee Health and Safety Education,

4
4
8
Unit: 3
IPS
Installation of PV System

1. Before going to installation - Collect Drawing & Documents, Collect Personal Safety Equipments
2. IS Code of practice
3. Step by step Installation, Flow up Installation Process

Site Survey, Leveling of Site, Leveling & Grading, Site Preparation
Collect SLD for DC system, DC Cable Schedule
Marking for Mounting Structures
Drilling Holes for Foundations, Pier Foundations
Stub & Coping, Structure Erection
Structure & Module Alignment
Collect Module and Inverter Technical detail
Module & Inverter Installation
Cable Trench Layout, DC Cable Laying & Conduit Dressing
DC Cable Laying
DC Cable Termination (SMB Work), Technical Datasheet for Junction Boxes, connectors etc.
Cable Laying Work (Control Room)
Installing Weather Stations, Earthing, Lightening protection, surge protection etc.
Check: Tilt Angle
Control Room, Collect SLD for AC system, Main AC Distribution Board SLD, HT & LT Cable Sizing Calculations and cable schedule
Transmission Line - Transmission Line and Bus Bar Conductor
Earthing Calculations for inverter and control room, Lightning protection
Inverter Room Equipment Layout, HT and LT panel drawing, Battery and UPS datasheets, DBR for Transmission system, Technical Datasheet for Tariff Meter
SCADA Architecture Single Line Diagram, Communication Cable Schedule, CCTV Architecture

4. Final Drawings & Documents, labelling
5. Softe copy of System Installation Documents by every student

2
8
10
Unit: 3
SIT
System Inspection, Testing, Commissioning

1. SYSTEM INSPECTION
2. TESTING - Mechanical completion, Electrical completion, Monitoring System
3. Inspection Process
4. Test Table -

Information about project
General Inspection
PV Module Mounting Structure & Civil Foundation
DC Junction Box or String Monitoring Box
Earthing & lightning arrestor
PV module
Inverter
AC Distribution Box
Cable identification & route inspection
Weather monitoring station and PV monitoring system
Cable insulation test
String fuse and String Open Circuit Voltage test
String DC Short circuit current test
Isolation device test

5. Commissioning, COMMISSIONING PROCESS, COMMISSIONING TASKS
6. PV COMMISSIONING TEST SHEETS -

Information about PV module
Information about PV array
Information about inverter
Inverter functional test
System acceptance test
RELIABILITY RUN TEST
Performance Ratio (PR) Test

7. Handover & Documentation
8. Softe copy of System Inspection, Testing, Commissioning report by every student

6
3
9
Unit: 3
SOM
System Operation and Maintenance

1. Solar Power Plant Monitoring
2. Scheduled maintenance
3. Common unscheduled maintenance
4. Module Cleaning, CLEANING METHOD
5. Shadow Objects Removing, Spare parts and equipments required
6. O&M Contract Types
7. Remote Monitoring System
8. Operations and maintenance Service table
9. Softe copy of System Operation and Maintenance Report Documents

2
1
3
* per class 45 Munutes, Per day 8 class.
Knowledge & Skill from this training Program
Through this training session, you can understand your responsibilities at work area
Technical Job skill:
Working process to generate solar power
understanding of photovoltaic power systems
Identify and list the components
Electrical equipments handling & its function
Mechanical equipments and its function
Site survey and evaluation of various environmental parameters
site condition effects on solar PV panel electrical outputs -

shadow effects
South Direction, azimuth angle, Sun path
mounting system, tracking system
System Test & Commissioning

electrical cabling and connections fitted to solar PV panels
Identify BoS components: inverter types, MPPTs, junction boxes, cables.
identify different types of faults in the solar photovoltaic systems
Site Operation and Maintenance Job
Occupational health and safety process
Professional Skills:
You can able to:
operate/use different tools used in installation work
Fill report form, make documentation
Communicate with supervisor and co ordinate with co workers
work as a team member for achieving quality work/customer satisfaction
Understand company's policies and needs
IST can provide skill training to do the job role as:
Conducting on-site routine maintenance, service, trouble shooting and repair of commercial and residential photovoltaic equipment
Identifies problems and develops corrective action plans
Cleaning of solar panels, Tightening all electrical connections, Line Accessories
Checking module interconnection, Junction boxes, Module mouting structure for loosening/arching
Work directly with client personnel and, as directed, third-party vendors to support project component (trackers, inverters, balance of plant equipment) installation, commissioning, testing, troubleshooting, and maintenance
Provide timely written review reports from field operation, status, and constructive feedback to supervisor as requested
Communicate effectively with Client and third-party vendors and actively participate in meeting reviews to provide technical feedback of field operations
Record and report all faults, deficiencies, and other unusual occurrences, as well as the time and materials expended on work orders. Responsible for all required repairs, maintenance, and monitoring of all warranty claims
Ensures that all plant activities are carried out in compliance with regulations, laws, policies and procedures governing health, safety and environmental matters
Submits plant reports including the daily and weekly production reports and provides necessary input for the Monthly Operations Reports
Course Fee:
Course Fee for Indian Students
Registration Fee: Rs.5,999/-
Training Fee : Rs. 13,999/-
Total Course Fee: Rs. 19,998/ including Service Tax & examination fee.
Pay Total Course Fee at the time of Registration/admission.
Course Fee for International Students
Registration Fee: $ 170 (US Dollar)
Training Fee : $ 410 (US Dollar)
Total Course Fee: $ 580 (US Dollar) including Service Tax & examination fee.
Pay Total Course Fee at the time of Registration/admission.
Become PV Solar Expert with Verified Skill Certification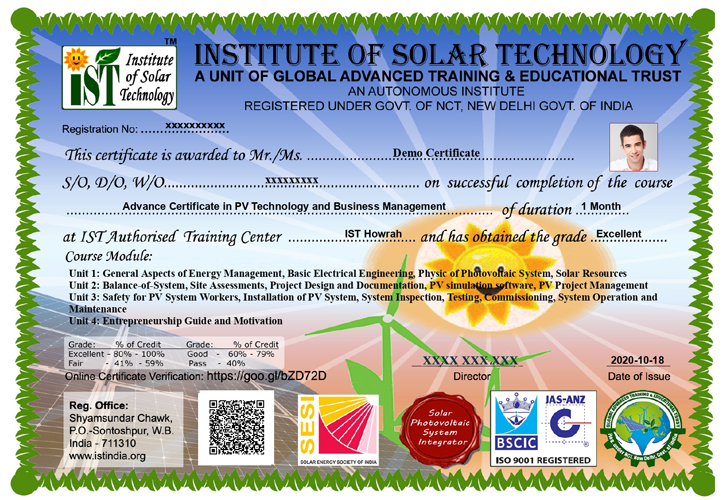 Institute of Solar Technology is a unit of Global Advanced Training and Educational Trust (GATE Trust), An International Academic Institute

1. An Autonomous Institute registered under NCT, Govt. of India under Indian Trust Act.
2. Registered Under NGO-DARPAN, NITI Aayog Govt. of India
3. ISO 9001:2015 registered Educational Trust
4. Certificate can APOSTILLE from Ministry of External Affairs, Govt. of India to get job abroad India.
5. Training Provider of NIESBUD, Govt. of India (2016)
6. Organisational Member of Solar Energy Society of India, (the Indian Section of the International Solar Energy Society (ISES))
7. Academic Partner of University of Petroleum & Energy Studies (2020)
8. Institute of Solar Technology Registered under Intellectual Property India, Govt. of India
9. Registered under 80G and 12A and CSR Act, Govt. of India
10. Awarded Full Accreditation by International Accreditation Organization (IOA) for global education standards.
11. Fully organised Practical and Research Lab at GATE Trust Howrah, West Bengal
12. GATE Research - Research unit of Global Advanced Training and Educational Trust. You can Write & Publish a Review/Research paper,
---
Quick Inquiry Form
Add EV Products (Free Listing)
EVSEMart is an Electric Vehicle equipment directory that B2B and B2C companies can use. Customers can search for suppliers, distributors, manufacturers, vendors in Electric Vehicle industries. customers can quickly find what they want and get the sales process going.