Workshop on Photovoltaic Solar Technology
Workshop on Photovoltaic Solar Technology
Workshop / Event Description
The objective of the workshop is to impart knowledge to the UG and PG Students /Research Scholars / Developers / Consultants / Manufactures and Suppliers of solar systems regarding solar PV plants in the country and give an insight regarding the various technologies of solar cell, inverter, installation and commissioning procedures, construction and latest developments in the field of solar power plant sector.
Through this workshop, we intend to raise awareness and build the capacity of budding of engineers, enabling them to proactively search for state-of-the-art patented clean technologies and Prospects for Start-ups in Solar Energy Technologies.
These types of hands-on training workshop programs give you exposure to latest PV technologies and help you to acquire skills by hands-on Practical. Attending such PV Solar workshops will also help you to identify your area of interest and then you can develop more skills on PV Solar Sector to master it.
A major goal is to develop a platform for discussion and to share ideas and knowledge regarding the key issues.
Discuss technical and economic issues of integration of solar power
Stimulate interdisciplinary thinking between solar energy and transmission and distribution industries
Economics of Solar Technologies
Future aspects of PV Solar Sector
Certificate will be Awarded by
Institute of Solar Technology, A Unit of Global Advanced Training & Educational Trust, Regd. under NCT New Delhi, Govt. of India
Eligibility
UG and PG Students
Research Scholars
Developers / Consultants
Manufactures and Suppliers of solar systems
Medium:
English, Hindi & Local Language
(Book & Online Examination in English)
Training Methodology:
The course will be delivered in class room board work, lecture using PowerPoint, sharing of case examples and PV System O&M.
Training Materials:
FREE soft copy as per Syllabus developed by National and International PV Technology Trainer & Expert
sample bill of materials, sample financial models etc.
Core Syllabus:
Subject Name
Time Frame
Day
OVERVIEW INDIAN POWER SECTOR
i. India is the sixth largest in terms of power generation.
ii. MAJOR PLAYERS IN THE POWER SECTOR
iii. Total Installed Capacity:(As on 31.03.2017)
iv. POLICY SUPPORT AIDING GROWTH IN THE SECTOR
v. India May See No New Coal Power Plants After 2022
First Session
Day 1
RENEWABLE ENERGY OVERVIEW
i. Overview Indian Renewable Energy Sector
ii. What are "Renewable Resources"?
iii. Renewable Resources
iv. The target set for the various renewable energy sources for the next three years
v. Future India's Power Scenario
vi. Enablers for achieving 100 GW targets
vii. Major Initiatives taken by Ministry
viii. Green Energy Corridor
ix. Indian Solar Market
x. Wind Energy, Small Hydro Power, Biomass Power
Second Session
Day 1
Introduction with Photovoltaic Solar Energy
I. Solar Cell Background
II. Fundamental of Solar Cell
III. The p-n junction
IV. Silicon Photovoltaic Cell
V. How Solar Cell works
VI. First Generation Solar Cell
VII. Second Generation Solar Cell
VIII.Third Generation Solar Cell
IX. Future Generation Solar Cell
First Session
Day 2
Solar Resources for Photovoltaic System
I. Universal Energy Source is the Sun
II. Solar Irradiance
III. Insolation Depending on
IV. Peak Solar Intensity
V. Peak Sun Hours
VI. Solar Window
VII. Air Mass
VIII.Solar Angle
IX. Calculate Module Tilt Angle
Second Session
Day 2
Practical on Shadow & Tilt angle effect
Practical on Site Assessment
First Session
Day 3
PV System Components
I. Technical specification of Module
II. Charge Controller / Inverter
III. Array Junction Boxes(AJB)
IV. Batteries, Connectors
V. DC Cables, DC Distribution Boards
VI. Disconnects/switches
VII. AC Cables , AC Distribution Boards and AC Isolator
VIII.Earthling Kit
IX. Fuses
X. Lightning Protection
XI. Meters
XII. Surge Protection Devices
XIII.Trackers Single-axis Dual-axis
XIV.Transformers

PV System Design and Installation Concept
I. 100000W SPV SYSTEM DESIGN
II. Cable Selection and Sizing
III. PV Power Plant Installation
a) Civil works. Infrastructure preparation
b) Mechanical works
c) Electrical works
d) Environmental issues
e) Quality. Critical issues during execution
f) Safety & Labour risks
g) Commissioning tests. Key points
Second Session
Day 3
Course Fee:
To organize a workshop, minimum candidate should be 50 nos.
Workshop Fee: Rs.1500/- per candidate Excluding all Taxes
Pay Total Fee 3 days before of workshop.
Organise Workshop in your College/School/Organisation
Submit the form and our team will contact you as soon as possible.
Become PV Solar Expert with Verified Skill Certification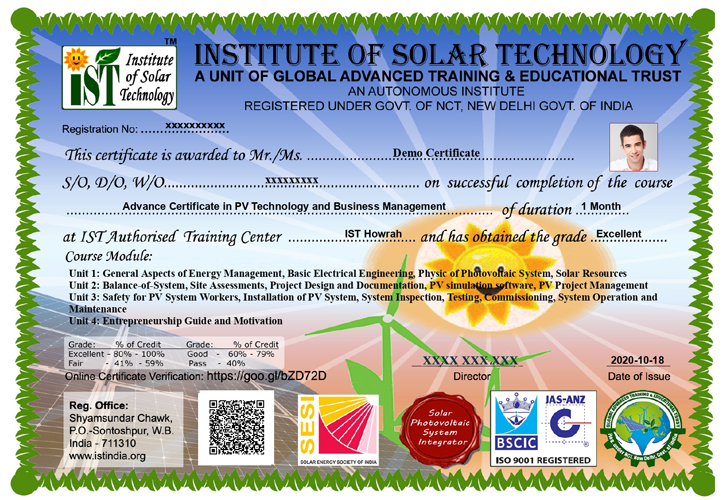 Institute of Solar Technology is a unit of Global Advanced Training and Educational Trust (GATE Trust), An International Academic Institute

1. An Autonomous Institute registered under NCT, Govt. of India under Indian Trust Act.
2. Registered Under NGO-DARPAN, NITI Aayog Govt. of India
3. ISO 9001:2015 registered Educational Trust
4. Certificate can APOSTILLE from Ministry of External Affairs, Govt. of India to get job abroad India.
5. Training Provider of NIESBUD, Govt. of India (2016)
6. Organisational Member of Solar Energy Society of India, (the Indian Section of the International Solar Energy Society (ISES))
7. Academic Partner of University of Petroleum & Energy Studies (2020)
8. Institute of Solar Technology Registered under Intellectual Property India, Govt. of India
9. Registered under 80G and 12A and CSR Act, Govt. of India
10. Awarded Full Accreditation by International Accreditation Organization (IOA) for global education standards.
11. Fully organised Practical and Research Lab at GATE Trust Howrah, West Bengal
12. GATE Research - Research unit of Global Advanced Training and Educational Trust. You can Write & Publish a Review/Research paper,
---
Quick Inquiry Form
Add EV Products (Free Listing)
EVSEMart is an Electric Vehicle equipment directory that B2B and B2C companies can use. Customers can search for suppliers, distributors, manufacturers, vendors in Electric Vehicle industries. customers can quickly find what they want and get the sales process going.