Search IST Courses
Find PV Solar course near by you
Search by: Li Ion Battery Suppliers [ Looking Express of Interest]
Onsite Practical at Head Office Solar Power plant
Government's Strategic Move to Enhance Bharat's Battery Energy Storage
In a significant development aimed at bolstering India's renewable energy sector, the Union Cabinet has given its nod to a ₹3,760 crore Viability Gap Funding (VGF) initiative dedicated to battery energy storage systems (BESS). The move holds tremendous promise for the renewable energy industry, as it seeks to address the intermittent power generation issues associated with green energy sources.
India is planning to invite bids for an 80 billion rupees ($960 million) incentive program for production of electric vehicle batteries, according to people familiar with the matter.
The demand for batteries is expected to rise to 260 gigawatt hour by 2030, catering to a growing market of electric vehicles, grid-scale energy storage and consumer electronics, according to a report published by research center RMI India and the government's think tank Niti Aayog.
India's Parliament passed a law allowing the government to auction and mine its newly-discovered reserves of lithium, among other minerals, increasing the mining of the critical raw material for electric vehicle batteries.
In 'white gold' rush, India kick-starts talks with lithium-rich nations
Jammu and Kashmir's reserve might be present with a large amount of lithium, but the current amount is insufficient to match with the world's top reserves of Lithium. For India to become self-reliant in the field of solar energy storage and EV manufacturing without being dependent on China for EV battery supplies, it is important to own more such Lithium reserves and enhance its presence in overseas lithium mines.
Solar lighting system operates on electricity from batteries, charged through the use of solar photovoltaic panels. It is composed of a battery, solar panel, LED lamp, and charge controller. The stored energy is collected in a rechargeable Lithium-ion battery used later to produce lighting at night. The rapid infrastructure development in all sectors of India is pushing local solar light manufacturers to compete and deliver innovative solar lighting products at low prices to increase their presence in the market.
Lithium-ion Battery Pack Assembly course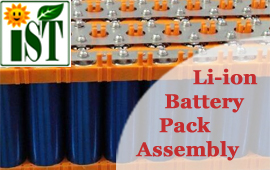 Techno Commercial Course to setup Lithium-ion battery assembly line for solar application, energy storage and EV 2W, 3W etc.
Practical training - cell sellection, cell IR testing, cell balancing, charge discharge testing, module & pack assembling, enclosure selection, all machinery selection, assembly line planning and layout drawing, costing of assembly line, working capital, investment, ROI, business projection making, different product design.
Get the knowledge of Lithium-ion cell parameters, Cell Chemistry, Cell Architecture, Thermal Management, BMS and battery pack assembly technical and commercial detail before setup assembly line.
Admission going on Jan - 2023
---
Quick Inquiry Form