Diploma in Renewable Energy Application
The renewable energy sector is growing at an exponential rate creation new job opportunities across the globe .This program aims to develop competency in the areas of energy policy making, financing, energy management and infrastructure provisioning.

A unique program provides an in-depth understanding of various fields including solar, wind energy, Geothermal. Through this course, the students are introduced to the alternate forms of energy such as solar energy, Wind energy, etc. along with the insights on Earth Air Heat Exchanger (EAHE). The program also covers the recent topics as Smart Grid and Net Zero CO2 emission global target by 2050.
Theory + practical Course
Course Objectives
• To gain the knowledge on different types of materials used in Renewable Energy.
• To understand the importance of Renewable Energy technology and its applications.
• To know the applications of solar, wind and EAHE Hybrid Renewable Systems to reduce grid energy demand.
• To develop sustainable Residential, Public, Commercial and Industry building.
• To become expert in Entrepreneurship.
Employability/Entrepreneur
• Identify Government scheme, subsidy and opportunities of renewable energy systems.
• Can do Business development, economic profile and power consumption trends in renewable energy customers.
• Identify and specify different types of renewable power products
• Proposal preparation with payment terms and condition
• steps involved in employability/entrepreneur of a trainee
• Identify manufacturers and suppliers in the nearby areas for employability/ entrepreneur
Admission Qualification:
Minimum Qualification:
3 Years Diploma / UG Science
Selection Process:
Last qualification percentage of marks basic
Duration:
1 year full time or part time equivalent
Course load
You must complete two Semester and achieve 80% marks to complete this course.
Study pattern
Full-time students enroll in two Semester 1 year diploma course, with face to face classes approximately 15 hours per week. You are expected to undertake an equivalent amount of self study to maximize success in the course.
Assessment
A range of assessment methods are used across subjects in this course to allow students to demonstrate both practical skills and theoretical knowledge. Most subjects require the completion of three to four assessment tasks. Assessment types include, but are not limited to practical exercises, case studies, written reports, research reports, field work exercises and examinations.
Award / Certification
Success candidates will get certificate from Institute of Solar Technology, A unit of Global Advanced Training and Educational Trust, An International Institute, Regd. under NCT Govt. of India, ISO 9001:2015, and Accredited by International Accreditation Organization (IAO).
Professional Diploma - Diploma in Renewable Energy Application
Theory + practical Course
Semester 1: Duration 6 Months (360 Hours)
1-1
General Science
General Science :
Engineering Mechanics,
Basic Electrical Engineering,
Basic Electronics Engineering and
Environmental Studies
1-2
Introduction with renewable energy
Introduction with development of renewable energy
Solar PV Technology
Solar Thermal Technology
Hybrid Renewable Energy
Vertical axis Wind Energy
Geothermal heat exchanger Technology
Zero Energy Building Technology
1-3
Solar Cell Technology
Solar Cell:
Physic of PV Cell
Polycrystalline solar cell (multi-Si)
Monocrystalline solar cell (mono-Si),
Multi-junction solar cell (MJ),
Thin-film solar cell (TFSC),
Amorphous Silicon solar cell (a-Si),
Copper indium gallium selenide solar cells (CI(G)S),
Gallium arsenide germanium solar cell (GaAs),
Nanocrystal solar cell, Organic solar cell (OPV),
Perovskite solar cell etc
1-4
Solar Panel Technology
Solar Panel Technology :
Generation Solar Panels - 1st Generation, 2nd Generation, 3rd Generation,
Monocrystalline and Polycrystalline panel manufacturing technology
Solar Panel Technical characterization,
testing and calculation
1-5
Solar Resource and Meteorological Parameters

The Solar Resource and Meteorological Parameters, Estimation of solar radiation under different climatic conditions, Estimation of total radiation and meteorological assessment
1-6
Residential and Public Sector Solar Power Plant
Solar Power Plant Project Readiness Activities:
Determining the scale of what can be accomplished, Figuring out options for technologies, sizing, design simulation, financing, and vendors. Preparing Request for Proposals (RFP) and related documents. Solar Water Pump Calculation, Design, costing etc.
1-7
Commercial and Industry Sector Solar Power Plant
Commercial and Industry Sector Solar Power Plant Development:
Determining the scale of what can be accomplished, Figuring out options for technologies, sizing, design simulation, financing, and vendors. Preparing Request for Proposals (RFP) and related documents.
1-8
GMMW Solar Power Plant
GMMW Solar Power Plant Design and Documentation:
Site assessment – Technical and environmental assessment Design and simulation, equipment sizing, grid interconnection, financial assessment – costing, BOQ, BOM, DPR, Fusibility Study and Techno-commercial report

Project Management and Development Phases - Project initiation, Project planning and design, Project installation, Project monitoring, Project completion
1-9
Operation and Maintenance
Operation and Maintenance of Photovoltaic and Energy Storage Systems:
Electrical System, Mechanical/structural System, Energy Storage system, System Performance, Software solutions and Data Management, measuring instruments, O&M Contract and Performance Guarantee, Estimating PV O&M Costs
1-10
Green Job Hazards
Green Job Hazards & PPE:
Occupational Safety and Health Administration
The PPE Assessment Tool and PPE Fact Sheet
---
Semester 1 Lab/Field Work
Lab 1
Solar Lab 1:

Different cell test and electrical characterization
PV Module Lab Test and Field Test
Field Work 1
Outdoor Practical 1:

Meteorological Assessment
Lab 2
Solar Lab 2:
Research and Development on solar home application:
SHL system, Solar Fan, outdoor application
Field Work 2
Industrial Visit and Market Survey 1:

Find out market opportunities, supplier/vendor, customer requirements, Business strategy of different vendors, Market challenges and solution, Nation mission and policy, Entrepreneurs opportunities.
Project 1
Project Document 1:

Prepare & Submit BOQ, BOM, DPR, Fusibility Study and Techno-commercial report, Meeting Presentation for Developer and Investor
---
Semester 2: Duration 6 Months (360 Hours)
2-1
Solar Thermal Technology
Solar Thermal Technology :
Fundamentals of thermal energy, Solar thermal energy conversion, Basic concept of heat exchanger, Solar thermal collector
2-2
Solar Water Heater Technology
Solar Water Heater Technology :
Solar Hot Water Thermal System, Working Principle, Types of Solar Collectors - Flat Plate Collectors, Evacuated Tube Collectors, ICS Collectors, Concentrating Collectors, Pool Collectors
2-3
Solar Water Heater
System Components :
Storage Tanks, Heat Exchangers, Pumps, Piping and Pipe Insulation, Solar Fluids, Other System Components

System Design
Solar system efficiency, Specific solar energy yield, Passive systems, Active systems , Thermal capacity, Heat transfer fluid, Anti-freeze fluids , Engineering Design, Theory and Theoretical Calculations, selection of Components, Collector performance indices, System piping arrangements, Tank configuration, controller
2-4
Solar Water Heater Production Line
2-5
Fundamentals of wind energy

Physics behind the generation of wind and its occurrence, types of small and large wind turbines, Wind energy characteristics, Modern wind turbines, Horizontal-axis and vertical-axis wind turbines

Building integrated vertical wind turbines, VAWT Types, Future Prospects of VAWT for Remote Applications
2-6
Wind resources measurement

wind resources measurement and assessment, atmospheric conditions, complex terrains, wind farm effects, site assessment (site selection, measurement equipment, types of meteorological masts, etc.), energy yield calculation
2-7
Design of vertical axis wind turbine

Design of vertical axis wind turbine for residential and industrial sector, Analysis of Customer Needs,

Design of blades, analysis of different types of blades, Generator Design, stator design, rotor design, Converter system

CALCULATIONS: The Wind Power, Generator Induced Voltage & Current

Final Cost Estimates:
Bill of Material, Assembly Cost, Overhead Cost, Total Cost, Return on Investment analysis
2-8
Geothermal Energy

Potential and Future Prospects of Geothermal Energy in Space Conditioning of Buildings, Potential Geothermal Energy Resources of India, Himalaya geothermal province, Sohana geothermal province, West coast geothermal province, Gujarat-Rajasthan geothermal province, Earth Air Heat Exchanger (EAHE) in India
2-9
Thermodynamic System

Thermodynamic System, Process and Cycle, Thermodynamic Property, Modes of Heat Transfer, Ground Temperature Variations, Heat Pumps, Heat Exchangers, Heating, Ventilating, and Air Conditioning, High-Temperature Geothermal Systems
2-10
Ground-source heat pump (GSHP) Design

Ground-source heat pump (GSHP), design tools for earth-air heat exchangers, Design Considerations and Installation, Modeling Ground Heat Exchangers, Loop Design Theory, Open Loop, Closed Loop, Horizontal Loop, Vertical Loop, Surface Water Loop, Horizontal Loop Design, Vertical Loop Design, Surface Water Design, Software Design
2-11
Economic Analysis of GSHP

Economic Analysis of a Ground-Source Heat Pump for Heating and Cooling a Single Building, Indian companies are involved in ground source heat pump's
2-12
Machine Learning (ML) for Renewable Energy
Machine Learning (ML): Introduction & Basic discussion
Importance of ML is Renewable Energy
Guidelines for application of ML in Renewable energy
ML Model development: Discussion
Implementation of ML in Renewable Energy: Research & Industrial angle
2-13
Net zero energy buildings

Net zero energy buildings: The next big step towards a better future
Semester 2 Lab/Field Work
Field Work 3
Solar water system size and Installation

Annual energy savings, Annual cost savings, Solar system cost, Savings-to-investment ratio, payback period,

Orientation & Slope of collectors , Structural (foundation), Integration of solar collector system into existing hot water distribution system
Field Work 5
Field Visit & Analysis of installed GSHP
ML Practical
ML Coding
- ML code basic
- Plot generating & Feature correlation
- ML codingon solar cells
- ML coding on some problem ofsolar energy
Every session there would be practical session.
** All the Practical session require laptop & internet connection
Course Fee:
Per Semester Fees: Rs. 34,999/-
All Fees Excluding 18% GST

---
Submit Registeration for this course:
Submit Registration
Admission Process
Submit Registration
IST Admission cell will check form data and they will inform you to pay Course fees
Deposit Course fees
Admission cell will send your E-registration certificate
Training cell will send you class calendar
Exam cell will conduct online examination and send E-Certificate, E-marksheet
Become PV Solar Expert with Verified Skill Certification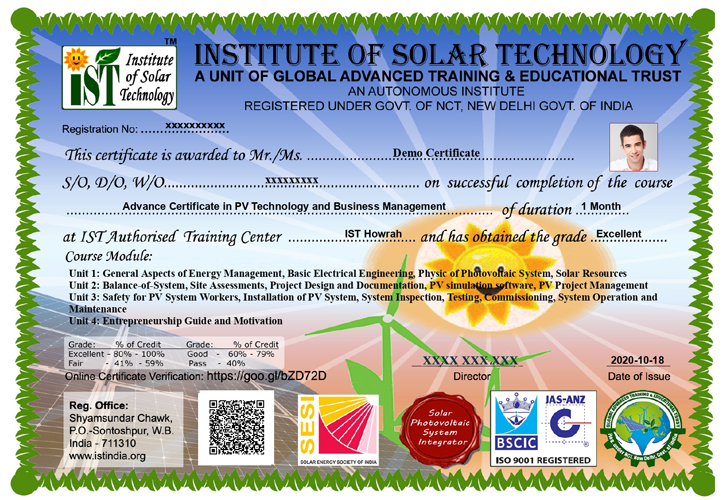 Institute of Solar Technology is a unit of Global Advanced Training and Educational Trust (GATE Trust), An International Academic Institute

1. An Autonomous Institute registered under NCT, Govt. of India under Indian Trust Act.
2. Registered Under NGO-DARPAN, NITI Aayog Govt. of India
3. ISO 9001:2015 registered Educational Trust
4. Certificate can APOSTILLE from Ministry of External Affairs, Govt. of India to get job abroad India.
5. Training Provider of NIESBUD, Govt. of India (2016)
6. Organisational Member of Solar Energy Society of India, (the Indian Section of the International Solar Energy Society (ISES))
7. Academic Partner of University of Petroleum & Energy Studies (2020)
8. Institute of Solar Technology Registered under Intellectual Property India, Govt. of India
9. Registered under 80G and 12A and CSR Act, Govt. of India
10. Awarded Full Accreditation by International Accreditation Organization (IOA) for global education standards.
11. Fully organised Practical and Research Lab at GATE Trust Howrah, West Bengal
12. GATE Research - Research unit of Global Advanced Training and Educational Trust. You can Write & Publish a Review/Research paper,
---
---
Lifetime business opportunity
After passing IST course, Chance to Become Authorized Service Partner / Freelance with India's Largest Solar module Manufacturer. WAAREE Energy.
Can allow you to join the Waaree team as authorized service partners for all solar-related services such as installation, O&M, panel cleaning, and site survey.

Institute of Solar Technology,
Training Partner of WAAREE Energy
Bangalore & Howrah Offline classroom class next session Oct. 2023. Submit Registration
Quick Inquiry Form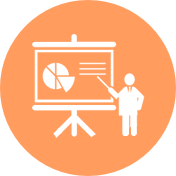 Interactive Classes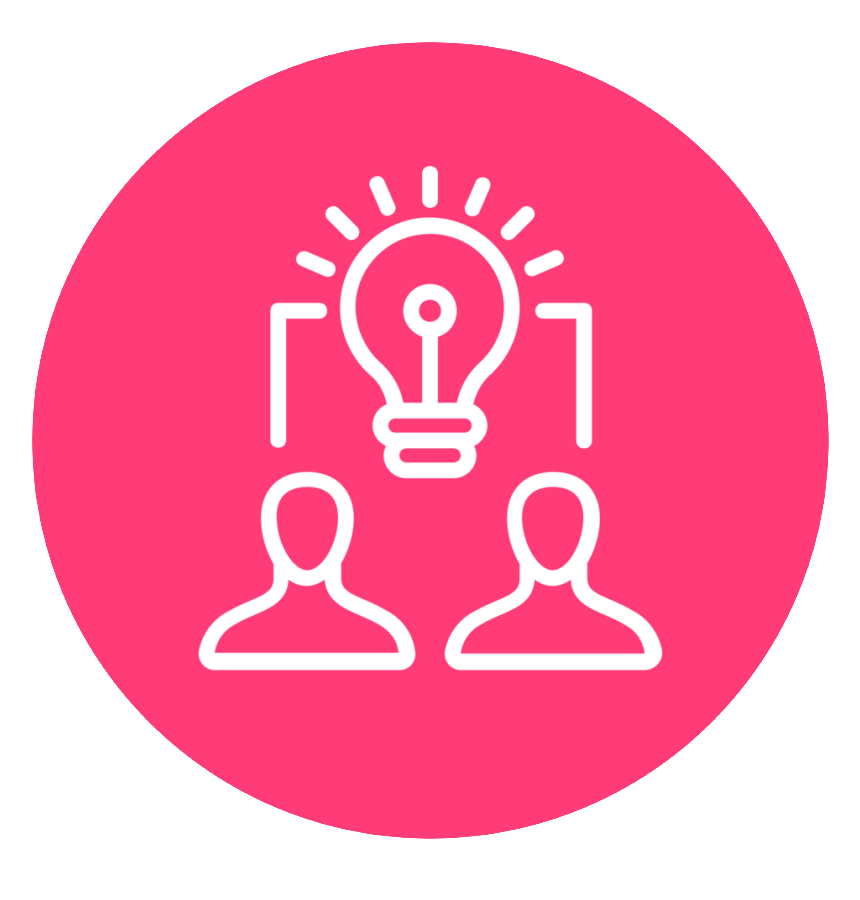 Practical & Doubt Classes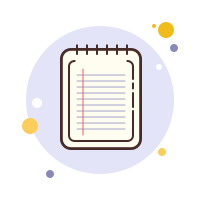 E-Library Study Materials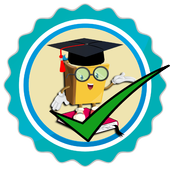 Online Examination

Solar Course