Search IST Courses
Find PV Solar course near by you
Search by: Helioscope Solar [ Looking Express of Interest]
Onsite Practical at Head Office Solar Power plant
What is HelioScope?
Folsom Labs is the developer of the solar PV design tool HelioScope. This tool aims to simplify the process of designing and engineering of solar power systems. It claims to make the solar design process 5 to 10 times faster for solar designers. HelioScope provides a web-based user interface with solar layout tools and energy simulation.

This solar software is for everyone who wants to create photovoltaic (PV) system designs. From beginner to expert, HelioScope will be able to provide the users with a great solar PV simulation experience.
The Future of Solar Energy considers only the two widely recognized classes of technologies for converting solar energy into electricity — photovoltaics (PV) and concentrated solar power (CSP), sometimes called solar thermal) — in their current and plausible future forms.

We concentrate on the use of grid-connected solar-powered generators to replace conventional sources of electricity. For the more than one billion people in the developing world who lack access to a reliable electric grid, the cost of small-scale PV generation is often outweighed by the very high value of access to electricity for lighting and charging mobile telephone and radio batteries. In addition, in some developing nations it may be economic to use solar generation to reduce reliance on imported oil, particularly if that oil must be moved by truck to remote generator sites.
Now, with solar photovoltaic technology becoming more and more affordable, scalable and accessible, that dream is getting closer to reality. This online course looks at solar PV in depth, examining its potential for today and the near future, exploring the technical challenges, and assessing the commercial opportunities. It offers you an unparalleled insight into the global solar power market, and will give you the knowledge and practical details to shape and lead the future of solar energy.
Discover the PV business and expand your professional options
PV Technology & Business Management - Business Course (Offline)
Why people say – IST Business Boosting Course?
We cover business opportunities in Residential, Public Sector, Commercial and Industry, how you will prepare your technical team to fulfill customer requirement? How can you offer optimum electric bill saving or increase money for your Residential, Public Sector, Commercial and Industry customer? Learn from Institute of Solar Technology. You will become good Rooftop Solar Business Developer – 100% grantee. See Detail Syllabus

Admission going on for Jan - 2023
PV Technology & Business Management - Business Course (Online)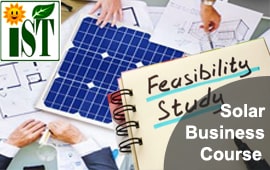 We will cover all topics of the syllabus and more to build Net-Zero Co2 Emissions Earth and grow your business- 100% grantee
Same content as offline PV Technology & Business Management course to boost your business through online live virtual class. Learn about Public, Commercial and Industry Sector solar rooftop project – availability, requirement, benefits and business opportunities through IST Virtual Class room.
Are you doing Job or business, full day work schedule? we are here to start class at Night for you. We can meet in class at your home.

Admission going on for Jan - 2023
Solar Project Design Master Course
Solar Project Design Master Course: maximizes efficiency in the implementation of detailed project plans, keeping track of goals, tasks, resources, schedules, costs, and contingencies.This Course also enables to identify opportunities to reduce costs and minimize risk; develop systems to manage safety and quality assurance on site and also provide technical assistance to contractors, and report on progress to owners, project developers, and financial partners.

Admission going on for Jan - 2023
---
Quick Inquiry Form