Search IST Courses
Find PV Solar course near by you
Search by: Solar Plant Design Master Da Nang Vietnam [ Looking Express of Interest]
Onsite Practical at Head Office Solar Power plant
Policy promoting investment in renewables in Vietnam
The policy worked. Attractive tariffs coupled with a short eligibility window sparked a construction frenzy, especially in solar. Major government support schemes have included income tax and land lease exemptions. The public's increasing concern over air pollution caused by coal has also meant that support for clean energy has been on the rise.
Vietnam has been leading in solar power development in the ASEAN region. The solar power sector grew strongly, with a new capacity estimated at 17.6 GW in 2021.
In 2019, Vietnam overtook Thailand as the country with the largest installed capacity for solar and wind power in Southeast Asia. By the following year, the country's total solar power capacity reached 16,500MW, far surpassing the government's target of 850MW.

Vietnam is expected to approve its eighth power development plan for 2030 this May, after two years of revisions and delays. The latest draft was revised to reflect the government's commitment to becoming carbon neutral by 2050. Under the plan, the share of coal power would drop from about 30 percent in 2025 to 13 percent in 2045, with renewables, excluding hydropower, rising from about 23 percent in 2025 to up to 52 percent in 2045.

Currently, the largest solar project in Vietnam, and indeed Southeast Asia, is the 600MW Dau Tieng Solar Power Complex, located in Tay Ninh Province, 100km away from Ho Chi Minh City. The project started commercial operation and began delivering power to EVN.


Calculation of electrical energy with solar power plant design
Learn the design fundamentals of photovoltaic projects. Gain knowledge and skills from engineers with real-life experience in solar energy and electrical delivery fields. You will also understand solar plant components and PV modules; DC system and AC collector design; civil and geotechnical issues; and interconnection to distribution and the bulk power grid.
A comparative analysis of Next generation solar power plants
Who Should Attend?
This course will benefit those new to the field of solar energy and those in need of a refresher, including:
Renewable energy developers
Electric utility design or planning engineers
Power system dispatchers
Consulting engineers
Project managers
Managers of design departments
Engineering technicians
Solar Project Design Master Course
Solar Project Design Master Course: maximizes efficiency in the implementation of detailed project plans, keeping track of goals, tasks, resources, schedules, costs, and contingencies.This Course also enables to identify opportunities to reduce costs and minimize risk; develop systems to manage safety and quality assurance on site and also provide technical assistance to contractors, and report on progress to owners, project developers, and financial partners.

Admission going on for Jan - 2023
The current project is focused on the design a large-scale PV solar power plant. To make the design it is carried out a methodology for the calculation of the different parameters required for the realization of a project of this nature. Subsequently, the different parameters obtained are compared with parameters obtained in literature and with the parameters obtained by means of specialized PV software.

Before implementing the design calculation methodology, the main components in a large-scale PV plant are described: PV modules, mounting structures, solar inverters, transformers, switchgears and DC and AC cables. Furthermore, the following aspects are analysed in the current project: legislative and administrative procedures, renewable energy support schemes and environmental aspects associated with large-scale PV plants.

The calculation methodology is divided in: design calculations, energy calculations, economic calculations and evaluation parameters calculation.
Solar PV Design Job Summary
In most solar EPC/installation companies, design team is a critical element and hence most companies prefer to have an in-house design engineer. With the India Government's impetus to achieve 200 GW of Solar Power by 2022, there will be a good amount of demand for Solar PV Design Engineers in the country.
A Solar PV Designer's job is mainly to design and develop site plans for solar panel installation. The Design Engineer takes the initial system concept ideas and translates them into fully detailed construction ready designs. Coordinating with multiple team members and customers, the Design Engineer balances the necessity of a customer solution with the efficiency of standard practices.
Job Description
A typical Solar PV Designer's job will predominantly revolve around following three key responsibilities:
Calculations & Design
BOM Preparation
Overseeing project execution
Skills Expected
Ability to design PV systems
Has knowledge in PVSYST and AutoCAD
Has knowledge in electrical design concepts
The Future of Solar Energy considers only the two widely recognized classes of technologies for converting solar energy into electricity — photovoltaics (PV) and concentrated solar power (CSP), sometimes called solar thermal) — in their current and plausible future forms.

We concentrate on the use of grid-connected solar-powered generators to replace conventional sources of electricity. For the more than one billion people in the developing world who lack access to a reliable electric grid, the cost of small-scale PV generation is often outweighed by the very high value of access to electricity for lighting and charging mobile telephone and radio batteries. In addition, in some developing nations it may be economic to use solar generation to reduce reliance on imported oil, particularly if that oil must be moved by truck to remote generator sites.
Now, with solar photovoltaic technology becoming more and more affordable, scalable and accessible, that dream is getting closer to reality. This online course looks at solar PV in depth, examining its potential for today and the near future, exploring the technical challenges, and assessing the commercial opportunities. It offers you an unparalleled insight into the global solar power market, and will give you the knowledge and practical details to shape and lead the future of solar energy.
Discover the PV business and expand your professional options
PV Technology & Business Management - Business Course (Offline)
Why people say – IST Business Boosting Course?
We cover business opportunities in Residential, Public Sector, Commercial and Industry, how you will prepare your technical team to fulfill customer requirement? How can you offer optimum electric bill saving or increase money for your Residential, Public Sector, Commercial and Industry customer? Learn from Institute of Solar Technology. You will become good Rooftop Solar Business Developer – 100% grantee. See Detail Syllabus

Admission going on for Jan - 2023
PV Technology & Business Management - Business Course (Online)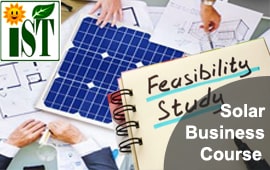 We will cover all topics of the syllabus and more to build Net-Zero Co2 Emissions Earth and grow your business- 100% grantee
Same content as offline PV Technology & Business Management course to boost your business through online live virtual class. Learn about Public, Commercial and Industry Sector solar rooftop project – availability, requirement, benefits and business opportunities through IST Virtual Class room.
Are you doing Job or business, full day work schedule? we are here to start class at Night for you. We can meet in class at your home.

Admission going on for Jan - 2023
Solar Project Design Master Course
Solar Project Design Master Course: maximizes efficiency in the implementation of detailed project plans, keeping track of goals, tasks, resources, schedules, costs, and contingencies.This Course also enables to identify opportunities to reduce costs and minimize risk; develop systems to manage safety and quality assurance on site and also provide technical assistance to contractors, and report on progress to owners, project developers, and financial partners.

Admission going on for Jan - 2023
---
Quick Inquiry Form