Vocational Training on Photovoltaic System for Engineering students
Job Role: Institute of Solar Technology conducts following Vocational Training on PV Solar System Engineering, Rooftop Net metering PV Solar system for the Students of B.E/B.Tech,M.E/M.Tech,Diploma Engineering from the streams of Electronics & Communication, Computer Science, IT, Electrical, Electrical & Electronics Engineering, Electrical Power System, Electronics & Instrumentation, Civil Engineering, Mechanical Engineering.
Objective of the Training:
To give an overview of Solar Photovoltaic technologies
To give an exposure to working/live Solar Photovoltaic equipments
To help enhance awareness of the students on various job options in the Solar Photovoltaic industry
Certificate will be Awarded by
Institute of Solar Technology, A Unit of Global Advanced Training & Educational Trust, Regd. under NCT New Delhi, Govt. of India and NITI Aayog, Govt. of India
Eligibility
2 nd / 3 rd / 4th Year Electronics & Communication, Computer Science, IT, Electrical, Electrical & Electronics Engineering, Electrical Power System, Electronics & Instrumentation, Civil Engineering, Mechanical Engineering students of
B.E/B.Tech from the streams of
M.E/M.Tech
Diploma Engineering
Medium:
English, Hindi & Local Language
(Book & Online Examination in English)
Duration: 1 Month
TRAINING METHODOLOGY:
E-Learning Content for Self Learning:
We provide access to our Learning Management System (LMS) that includes resources from e-books, assignments, Audio-Video links and web-links from our online E-Library. The LMS is accessible via smart phones and tabs, and is available in our E-Library website.
Live Interactive Classes:
Our expert faculty members take session on each paper that is delivered through live webinar sessions. These sessions are joined by students from India and Abroad. Key concepts, case studies and real life examples are discussed. Students also get chance to clarify their doubts / academic clarifications. If by any chance you miss these live classes, don't worry, the recorded sessions are uploaded in the E-Library/LMS.
HelpDesk – Solve your queries instantly:
Helpdesk Support is Available for all students in IST in the defined business hours. All learners can connect via Email & Chat. Helpdesk Connect learners to all departments of IST. Issues raised via Email & Tickets answered within 24 Business Hours. We encourage students to use this facility.
Core Syllabus:
Unit: GES
Global Energy Scenario
Summary of the unit:
Learn about business opportunities in Residential, Public Sector, Commercial and Industry, how you will prepare your technical team to fulfill customer requirement.
Global and Indian Energy Scenario


Solar PV forecast 2040
net-zero CO₂ emissions in 2050
India's rooftop solar market
State Energy Policy,
Unit: BEE
BASIC ELECTRICAL ENGINEERING
Summary of the unit:
Basic of Electricity – this unit mainly for those who are coming from non-technical background.
Basics of electricity


Types of energy
Basics of electricity - Electricity, Current, Voltage
Resistance, Inductor, Capacitor
Ohm's Law, Measurement Units, Power, Energy
Insulators and Conductors
DC power, AC Power, Electrical Term
Electric Circuit - Short Circuit, Open Circuit, Series circuit
Parallel Circuit, Mixed Circuit
Identification, Selection and Measuring Instrument


Cable and Wire
Color coding of wires, Solar Cable
Measuring AC/DC Voltage, Current, Resistance, Continuity
Unit: SMT
SOLAR MODULE TECHNOLOGY
Summary of the unit:
A brief discussion of PV Cell technology, PV Module/Panel, Technical Specification, Best Module selection.
Physic of Photovoltaic System


Semiconductor, Silicon Semiconductor
Phosphorus, Boron, N-type Silicon, P-type Silicon
Formation of Solar Cell, p-n junctions
PV Cell to PV Module Formation


Modules combination - Series & Parallel combination
Module Circuit
Design of PV Module - Front Surface, Encapsulate, Rear Surface, Frame
Working Process of PV Module


Photoelectric Effect, Photon's Energy
Output of a Solar cell - DC Current, Voltage
Technical Specification - Electrical Specification - STC
Pmax, Vmp, Voc, Imp, Isc, Different Wp PV Module Datasheet
Calculate OCPD, Module Fill Factor, Efficiency, Maximum System Voltage
Series & Parallel Wiring, Maximum Series Fuse, Diodes in PV Array
PV Module datasheet understanding


Understanding PV Module technical parameters
Voltage and Current variation
Solar cell fill factor calculation
Calculate Panel Efficiency
Electrical Characteristics, Thermal Characteristics, Mechanical Characteristics
Unit: SRA
SOLAR RESOURCE ASSESSMENT
Summary of the unit:
To develop solar power plant, solar resource assessment is very important to prepare energy generation prediction, return of investment calculation. Understand project site available solar resources and justify plant system, appropriate location, MMS angle and many more.
Solar Resource


Solar Irradiance, Insolation,
Solar Radiation
PSI, Sun Path
Tilt Angle


Solar Angle, Calculate Altitude Angle
Azimuth Angle
Calculate Optimum Tilt Angle
Unit: BOS
SOLAR PLANT BALANCE OF SYSTEM (BOS)
Summary of the unit:
A brief discussion on all related equipment like MMS, AJB, Cable, Connectors, Battery, CC, Inverter etc.
Balance of System


AC Cables
AC Distribution Boards
AC Isolator
Array Junction Boxes(AJB)
Batteries (optional, usually found only in small rooftop plants)
Connectors
DC Cables
DC Distribution Boards
Disconnects/switches
Earthling Kit
Fuses
Lightning Protection
Meters
Surge Protection Devices
Trackers (optional, usually found only in ground mounted plants) Single-axis Dual-axis
Transformers
Unit: RSD
ROOFTOP SOLAR DESIGN
Summary of the unit:
Optimum electric bill saving calculation, Rooftop Solar Project for Residential, Public Sector, Commercial and Industry customer. Learn from Institute of Solar Technology. You will become good Rooftop Solar Business Developer – 100% grantee.
Understand Financial benefits for your customer


Understand DISCOM electric charges
Prepare Financial benefit
Project 300% to 500% money increase from rooftop with less than 2 years ROI
Rooftop Solar Power Plant Design and Costing


Calculation of Rooftop System
Energy generation calculation
Site Selection at customer's house
Equipment Selection & calculation
System Costing
Software Simulation
Off Grid, Hybrid, On Grid Net-metering rooftop solar power plant solar design and report generation using solar simulation software
Rooftop Solar Power Plant Documentation


Funding Model
Loan Model
Return of Investment (ROI) calculation
Training & Documentation for your client
---
Course Fee:
Online Live Class Fees: Rs. 5,999/-
Hands on Practical Fees: Rs. 999/
Total Course Fee: Rs. 6,998/
All Fees including 18% GST
If you are interested to join at Practical session, we will inform you and pay Hands on Practical Fees at that time.
---
Pay Now Online Live Class Fees only.
Submit Registeration for this course:
Submit Registration
Live Class
Learn from World top Professional University and Best Business School - Institute of Solar Technology. Start streaming on-demand video lectures today from top instructors html5 format support from all mobile, laptop devices.
* This is hereby notified that, Considering the current Covid 19 outbreak. Gate trust will deliver 2020-21 academic classes through online Virtual classroom mode.
Know more about IST Virtual Classroom
Academic Board
GATE Trust
01/04/2020
Become PV Solar Expert with Verified Skill Certification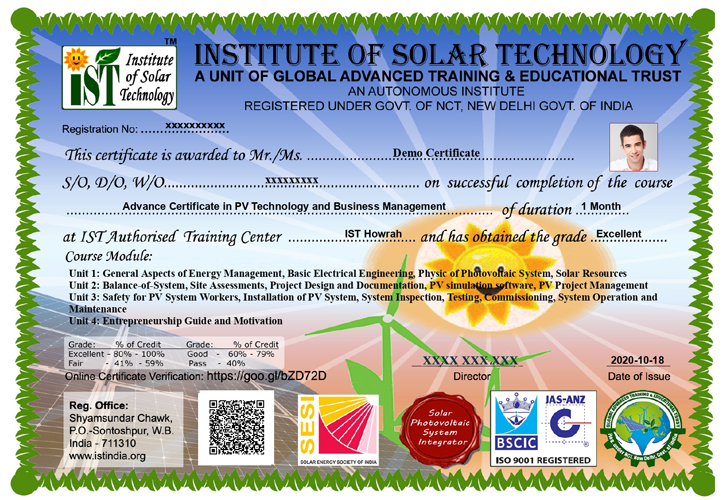 Institute of Solar Technology is a unit of Global Advanced Training and Educational Trust (GATE Trust), An International Academic Institute

1. An Autonomous Institute registered under NCT, Govt. of India under Indian Trust Act.
2. Registered Under NGO-DARPAN, NITI Aayog Govt. of India
3. ISO 9001:2015 registered Educational Trust
4. Certificate can APOSTILLE from Ministry of External Affairs, Govt. of India to get job abroad India.
5. Training Provider of NIESBUD, Govt. of India (2016)
6. Organisational Member of Solar Energy Society of India, (the Indian Section of the International Solar Energy Society (ISES))
7. Academic Partner of University of Petroleum & Energy Studies (2020)
8. Institute of Solar Technology Registered under Intellectual Property India, Govt. of India
9. Registered under 80G and 12A and CSR Act, Govt. of India
10. Awarded Full Accreditation by International Accreditation Organization (IOA) for global education standards.
11. Fully organised Practical and Research Lab at GATE Trust Howrah, West Bengal
12. GATE Research - Research unit of Global Advanced Training and Educational Trust. You can Write & Publish a Review/Research paper,
---
Quick Inquiry Form