Search IST Courses
Find PV Solar course near by you
Search by: Electrical Design Course [ Looking Express of Interest]
Onsite Practical at Head Office Solar Power plant
Calculation of electrical energy with solar power plant design
Learn the design fundamentals of photovoltaic projects. Gain knowledge and skills from engineers with real-life experience in solar energy and electrical delivery fields. You will also understand solar plant components and PV modules; DC system and AC collector design; civil and geotechnical issues; and interconnection to distribution and the bulk power grid.
A comparative analysis of Next generation solar power plants
Who Should Attend?
This course will benefit those new to the field of solar energy and those in need of a refresher, including:
Renewable energy developers
Electric utility design or planning engineers
Power system dispatchers
Consulting engineers
Project managers
Managers of design departments
Engineering technicians
Solar Project Design Master Course
Solar Project Design Master Course: maximizes efficiency in the implementation of detailed project plans, keeping track of goals, tasks, resources, schedules, costs, and contingencies.This Course also enables to identify opportunities to reduce costs and minimize risk; develop systems to manage safety and quality assurance on site and also provide technical assistance to contractors, and report on progress to owners, project developers, and financial partners.

Admission going on for Jan - 2023
The current project is focused on the design a large-scale PV solar power plant. To make the design it is carried out a methodology for the calculation of the different parameters required for the realization of a project of this nature. Subsequently, the different parameters obtained are compared with parameters obtained in literature and with the parameters obtained by means of specialized PV software.

Before implementing the design calculation methodology, the main components in a large-scale PV plant are described: PV modules, mounting structures, solar inverters, transformers, switchgears and DC and AC cables. Furthermore, the following aspects are analysed in the current project: legislative and administrative procedures, renewable energy support schemes and environmental aspects associated with large-scale PV plants.

The calculation methodology is divided in: design calculations, energy calculations, economic calculations and evaluation parameters calculation.
Solar PV Design Job Summary
In most solar EPC/installation companies, design team is a critical element and hence most companies prefer to have an in-house design engineer. With the India Government's impetus to achieve 200 GW of Solar Power by 2022, there will be a good amount of demand for Solar PV Design Engineers in the country.
A Solar PV Designer's job is mainly to design and develop site plans for solar panel installation. The Design Engineer takes the initial system concept ideas and translates them into fully detailed construction ready designs. Coordinating with multiple team members and customers, the Design Engineer balances the necessity of a customer solution with the efficiency of standard practices.
Job Description
A typical Solar PV Designer's job will predominantly revolve around following three key responsibilities:
Calculations & Design
BOM Preparation
Overseeing project execution
Skills Expected
Ability to design PV systems
Has knowledge in PVSYST and AutoCAD
Has knowledge in electrical design concepts
Solar Business Opportunities
The growing demand for green energy has made solar products more relevant in present times. The following are some of the recognized and undeveloped prospects for the solar energy business in India:
Solar Projects to Develop and Own
You can also continue to work on your solar projects. All you have to do now is assemble a team of experts in solar energy and equipment. Utilize your previous experience executing solar projects by developing and implementing a solid business plan, acquiring funds, and finally constructing it.
Consultants for Solar Projects
During the solar installation project, you will be expected to supervise, monitor, and offer recommendations as a consultant. You'll be in charge of guiding clients through the whole solar installation procedure. You can either work for yourself or for a consulting firm.
Auditing of Solar Energy
This opportunity is for people who have a deep understanding of the energy situation and how to meet energy demands. This is a prerequisite for anyone interested in having solar panels installed on their property. Starting this business requires a small investment. An auditor can act as a salesperson, promoting environmental conservation through the use of natural and renewable energy sources such as solar power, as well as advising clients on how to regulate and limit their energy consumption.
Solar Product Distribution
In India, starting a distribution company in the solar energy sector could be a great business opportunity. Once you've discovered a reputable solar product manufacturer in your area, you'll need to find distributors. Then you can start trading and making money.
Institute of solar Technology a pioneer in PV solar technology training an academic partner of University of Petroleum and Energy Studies, we have created 1000+ new solar entrepreneur since 2014. We are conducting online interactive + practical training sessions on PV TECHNOLOGY & BUSINESS MANAGEMENT for start-ups, entrepreneur, managers, project developers, implementing agencies and EPC companies. Course focus is on solar power projects development and quality management.

The trainees will have the opportunity to interact with highly experienced trainers on site assessment and planning, feasibility study and detailed project report preparation, design and installation best practices, PV system performance modelling and energy yield assessment, documentation as per IEC standard, inspection procedure and quality assurance, O&M planning, tender document preparation and contract management. Course covers both rooftop and ground mounted MW scale PV power projects.
Solar Project Design Master Course
Solar Project Design Master Course: maximizes efficiency in the implementation of detailed project plans, keeping track of goals, tasks, resources, schedules, costs, and contingencies.This Course also enables to identify opportunities to reduce costs and minimize risk; develop systems to manage safety and quality assurance on site and also provide technical assistance to contractors, and report on progress to owners, project developers, and financial partners.

Admission going on for Jan - 2023
Lithium-ion Battery Pack Assembly course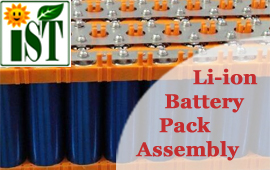 Techno Commercial Course to setup Lithium-ion battery assembly line for solar application, energy storage and EV 2W, 3W etc.
Practical training - cell sellection, cell IR testing, cell balancing, charge discharge testing, module & pack assembling, enclosure selection, all machinery selection, assembly line planning and layout drawing, costing of assembly line, working capital, investment, ROI, business projection making, different product design.
Get the knowledge of Lithium-ion cell parameters, Cell Chemistry, Cell Architecture, Thermal Management, BMS and battery pack assembly technical and commercial detail before setup assembly line.
Admission going on Jan - 2023
Solar Operation Maintenance Master Course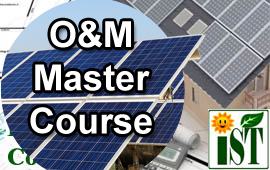 Solar Operation Maintenance Master Course: Knowledge - Understand solar designs and solve the site level issues remotely, Maintain the PR for Solar projects and prepare DPR for generation shortfall issues.
Job Skill - Inverter diagnostics and repair, Performing troubleshooting and repairs on site, Daily plant operation in coordination with O&M operator/In house O&M activities, Preventive maintenance and breakdown maintenance, Understanding of solar PV technologies and day to day plant operations

Admission going on for Jan - 2023
Solar Power EV Charging Station Design Course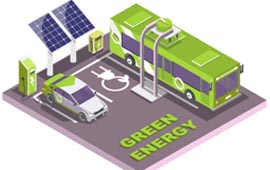 Solar Power EV Charging Station Design Course:

Solar charging stations for electric vehicles have emerged as one of the best ways to reduce India's dependence on fossil fuels. Nearly everyone who owns an Electric vehicle will install a solar charging station in their home. Certificate in Solar Power EV Charging Station (Design and Development) Training Program is a master courses that takes an Engineer, designe engineer, installer from site assessment, all the way through power-up and pinpointing.
Admission going on for Jan - 2023
---
Quick Inquiry Form